Sara Anderson is an award-winning children's book author and illustrator who comes from a well-traveled world of eccentricity and sensual beauty. Her many and varied stories are told from her experience of fall in the Northeast, of the Deep South's swamplands and bayous, of the streets of Manhattan, of the farmers' markets of the West Coast, and of blissful days of swimming in tropical oceans. Her books reflect years of paying attention to and finding delight in the exotic and the everyday.
Through a long career of design, product development, and now storytelling, she pursues the marriage of art and industry with an enthusiasm and vigor that resonate with all who are alive and curious. Her design work has been featured in the retail world of Takashimaya; The Museum of Modern Art, New York; Crate & Barrel; Sur la Table; and Target Corp.
Sara has supported UNICEF with her work for more than 25 years and is now working on The Literacy Project, furthering her deep belief that the quality of literature provided to children will shape our world to come.
Sara Anderson Children's Books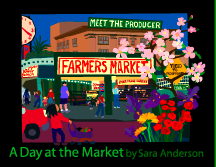 Pike Place Portraits: A lively art book introduces kids to a Seattle landmark.
By Roger Downey
The Pike Place Market has been a great place to take kids as long as I can remember. Now you can take the Market home with you and share it with the nippers without being afraid one of them is going to get lost or fall into a Dumpster.
Author/artist Sara Anderson lives in the Market. She's lived there a quarter-century, and what she knows about its people and shops, its moods and hours, is abundantly on view in her A Day at the Market. Printed on stiff, shiny, child-resistant die-cut cardboard, it provides action-figure portraits of so many Pike Place regulars (including Dumpster-diver "Three Hearts") that you can lose track of a particular figure in the dizzy multitudes, making Where's Waldo–like games a natural for reading with tinies.
The slightly more literate will be able to sound out Anderson's rhyming quatrains, but words are kept to a bare minimum. What makes the book fun to look at is the flood of lively images, all rendered—flowers, shops, streets, and people—as though composed of colored-paper cutouts ingeniously arranged. (Anderson produced artwork using the technique for decades, and though she now uses a computer, her images still have the edgy, dynamic feel of collage.)Compositionally, the look resembles Jacob Lawrence's genre pieces, while the color scheme recalls Matisse, but Anderson renders her Market so assiduously that each lively page jumps out at you like a portrait of the beloved familiar. All in all, the nicest thing to happen to the Market artwise since Mark Tobey hung out there, and a lot better adapted to lap appreciation.
—Review from the Seattle Weekly December 14, 2005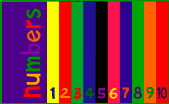 These eye-catching board books with their vibrant colors and unusual page design encourage the youngest child to discover the concept of counting, from one hen to ten cars!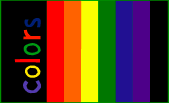 With bold, fresh palette, and
innovative conceptual design,
this joyfully introduces toddlers to Sara
Anderson's all-time favorite
subject—color—from fire-engine red to grasshopper green!


Two board books that are good enough eat!
Board books for babies, full of wholesome, hearty goodness. Market-fresh fruit and vegetables sumptuous to the eye, named in playful rhyme that's delightful to the ears. This rhythmic nourishment will set baby on the right path to eating healthy food for years to come.
"Huckleberry-strawberry-watermelon-plum/ apricot-mango Let's have some!" In this book, the juicy sensuousness of fruit comes alive and drips down your chin!
Beautiful, colorful, cut-paper style images of vegetables from broccoli to zucchini are presented in a rhythmic sequence:
"Celery- rhubarb-cucumber-bean / potato-tomato-yellow and green" making vegetables not only the subject for a sound body but for a sound mind.